About Vicky Poelmans Laser Hair Removal
As a licensed nurse, I have extensive work experience in hospitals in the Leuven area on various departments and there I also received the necessary medical (and human) training after my studies in nursing. I am also a certified independent home care nurse.
From a young age, I was fascinated by aesthetics and beauty care. Because of the connection with my medical background, I attended additional specialized training to work with lasers specifically for epilation purposes. My training and experience as a nurse were obviously a great advantage in this context. I work exclusively with the most efficient and safest method for laser hair removal: the EPILPRO II Diode laser.
Our laser treatments contribute to your self-confidence. You feel more attractive, hygienic and groomed without unwanted hair growth bothering you. It creates more peace of mind, self-confidence and more time to enjoy more pleasurable things. I love it when clients tell me that I have made their lives a tiny bit more beautiful and valuable.
Treatments take place at Beautiful Nails by Linde in Leuven, where we have a separate treatment room available.
Vicky Poelmans Laser Hair Removal is affiliated with and recognized by the Belgian Beauty Federation, the industry association for Belgian beauty professionals.
Together we strive to make you feel beautiful in your body. You are not alone. Because the best investment you can make, is in yourself!

Certified nurse
You will always be supervised throughout the laser treatments by a qualified nurse. A medical background (education & experience) is a must as far as we are concerned to perform laser epilation. You can feel comfortable as a client that laser hair removal is practiced by a qualified nurse with extensive experience in University hospitals, among others.
Laser epilation training
Training in laser epilation involves a thorough theoretical curriculum on proper settings, customized treatment plans, aftercare and contraindications as well as successful completion of the practical part.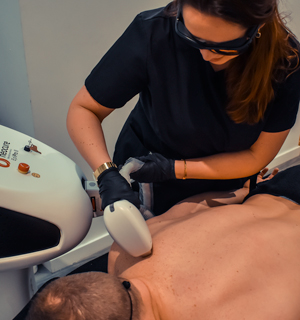 Medical laser in-house
We have an in-house diode laser. This eliminates all commercial middlemen and commissions which also keeps the price interesting. We are also very familiar with the device and the various settings as opposed to a rented laser.
Vicky Poelmans Laser Hair Removal
Your Permanent Laser Hair Removal in the center of Leuven | Qualified nurse | Efficient and safe medical laser
Laser Hair Removal in center Leuven
Easily accessible in downtown Leuven between the shopping streets Bondgenotenlaan and Diestsestraat.
Google Maps
Do you wish an appointment?
Please do not hesitate to contact us if you would like an appointment or have any questions regarding laser hair removal.
0498 25 15 42
Frequently Asked Questions
We have compiled a list of the most frequently asked questions and their answers regarding laser hair removal.
Our laser FAQ
Laser hair removal Vicky Poelmans
Safe and approved equipment
We use only safe and approved equipment to perform safe and effective laser treatments. Our medical diode laser is a class 4 laser of the latest generation, is fully up-to-date and carries the CE label. The safety and efficacy of diode lasers is clinically proven.
CE & ROHS compliant
Class 4 diode laser
Diode lasers are the safest and most efficient method of permanent hair removal based on a variety of medical studies.
Vicky Poelmans Laser Hair Removal
Our customers:
Felt immediately welcomed by Vicky! Customer-friendliness is definitely a high priority for her. Vicky is a calm person who explains everything nicely beforehand, but also during the treatment itself. At no time did I feel uncomfortable. She will definitely see me again!
With Vicky, I was immediately at ease! From the warm welcome, to the detailed explanation of the laser and analysis of my skin type. Even from the first treatment, I immediately noticed a big difference!
Very friendly reception, takes her time to explain everything both before and during treatment. Very satisfied with the result after a few sessions.
After a warm welcome, Vicky explained to me the procedure she was going to follow to get the desired result. After going over some questions, my skin type was determined and the device set accordingly. Time was taken to perform the treatment thoroughly and calmly. After several sessions, I am now very satisfied with the results!
Very friendly laser therapist who explained a lot about the laser hair removal. Result is noticeable after 3 sessions! Am definitely satisfied!
After having tried other stores in Leuven and being disappointed with the result and the professionalism they offered, I came to Vicky. A completely different way of working where the client is the focus, time is taken to come to the desired treatment together, and with results this time!
I would like to express my sincere thanks and appreciation for the outstanding laser hair removal sessions I have had with Vicky. As a man who initially had some doubts about undergoing this process, I can confidently say that my experience with Vicky was nothing short of amazing.
Laser Hair Removal Vicky Poelmans
We are medically trained and have received intensive training in laser hair removal techniques. Our skill, combined with our state-of-the-art class 4 diode laser, guarantees a comfortable and successful treatment experience.
Laser Hair Removal Vicky Poelmans
Laser hair removal targets the hair follicle using short pulses of light energy. The laser light is absorbed by the melanin in the hair follicle and prevents it from growing back in the future. The process is completely safe and leaves the surrounding tissue undamaged.
Laser Hair Removal Vicky Poelmans
Hair removal has long been common for women because of societal values or simply because of hygiene. In recent years, men have been paying more attention to their appearance resulting in the move from shaving and waxing to more advanced, permanent treatments.