Laser hair removal for men
An annoying issue for some men: recurring hair on the back, abdomen and chest ... . A temporary solution consists of shaving, waxing and various depilatory creams but unfortunately the hairs always come back. We see that laser hair removal - as a solution to that annoying hair growth - has become as popular for men as for women.
Permanent hair removal for men
Body hair varies between women and men, as well as between men. One man has virtually no visible hair growth, while another man suffers from excessive hair growth on his back or chest. Do you (or your partner) experience this as a problem? Then consider having a particular area permanently laser-treated.
Hard-to-reach areas
Shaving your back hair or buttocks as a man can hardly be called an easy job. For hard to reach areas, laser hair removal is a blessing nowadays as a man : extremely reduced hair growth and
permanent hair removal up to 90%
.
For the (professional) athlete
Cyclists
often laser their legs and lower body. Body hair leads to abrasions and irritation combined with the tight cycling clothing, sweat and mileage.
Figure competitors
and
competitive swimmers
also benefit from laser hair removal.
The same methodology
The methodology of laser hair removal is the same in women and men. However, there is a difference in the thickness of the hair and the amount of hair as well as the demand for the areas to be lasered. With men (who make up more than 20% of the clientele) we mainly get demand for permanent hair removal of the
back, chest, shoulders and buttocks
.
No inconveniences
Because men tend to have thicker, coarser hair, laser hair removal can be a godsend because it combats hair growth
without the razor burn, ingrown hairs or chronic irritation
that more common hair removal methods like shaving, waxing and sugaring entail. Not to mention the lost time.
Don't hesitate to contact us to make an appointment for a free intake consultation and/or contact us if you have any questions regarding laser hair removal for men. We are happy to help you with any of your questions.
Those who think of permanent laser hair removal usually think first of treatments for women. However, it is just as easy and convenient for a man to undergo permanent hair removal. Men are very welcome.
Whereas in the past mainly athletes such as cyclists, swimmers and figure competitors had laser hair removal done (read here why), we have for some time seen men tired of constant shaving and wanting to permanently address troublesome body hair. Underarm hair removal via laser can also help minimize sweat odor.

Laser hair removal Leuven
Top 5 reasons for men to choose laser hair removal
We probed the motivations among a group of men who took laser hair removal treatments, and here's what we found:
Their partners do not like excessive hair (think back/shoulders/buttocks, etc.).

Painfully ingrown hairs

Men who are athletic think their bodies look better without hair

Time-saving. Permanent results instead of regular shaving or waxing

More confident especially during summer/beach/events & festivals
Not only women want to look good. It is just as important for men to look and feel good. Very often, excess hair on the body is something that gets in the way of men looking and feeling attractive and confident. For those very reasons, laser hair removal has become a popular treatment option for men of all ages.
As a man, what do you do for laser hair removal?
Be sure to avoid sun exposure at least 6 weeks before your sessions begin; this will prevent complications after the sessions.

Do not wax, pluck or bleach. The root of the hair must be intact for the laser to work along the hair shaft and eliminate the hair.

If you are considering laser hair removal, you want to make sure that this is what you want since the hair removal is permanent : the hair does not grow back!
What factors influence the results of laser hair removal?
Correctly following instructions before and after laser sessions.

As a result of hormonal changes, men may experience an increase in chest, back and shoulder hair that can continue well into their 40s.

We can only try to destroy the hairs that are growing now, not those that have yet to appear with aging.

Certain conditions or medications (e.g., cancer drugs, anabolic steroids) can affect hair growth, especially if they significantly increase or affect hormone levels.
What is the treatment plan?
A treatment plan for laser hair removal consists of 3 phases: a discussion of the possibilities and wishes, the staggered sessions as well as any additional sessions should they prove necessary.
We discuss the options and your wishes such as the area(s) to be treated and the amount of hair loss
Depending on the desired result and area, we schedule 4-8 sessions to permanently reduce hair growth.
Depending on any dormant hair follicles, we can schedule any secondary sessions after a year or more.
Lasting results
Laser hair removal gives long-lasting results, meaning you no longer have to deal with annoying or painful maintenance. While it may seem expensive at first, it can also save you a lot of money in the long run on professional waxing services or shaving supplies.
No irritations
One of the main reasons for men to use laser hair removal is shaving bumps and ingrown hairs. Because a laser targets hair at the root, it prevents regrowth that leads to razor bumps. If your skin is very sensitive, laser hair removal for men may be the solution.
Fast & efficient
Lasers are the easiest and fastest way to address hair growth. For a small body part, an appointment can be as quick as 15 minutes. For busy men, laser hair removal is easy to fit in. Once you achieve your desired results, you no longer have to worry about hair removal.
About us
Certified nurse
Permanent hair removal training
High-quality laser in-house
Accredited by the Belgian Beauty Federation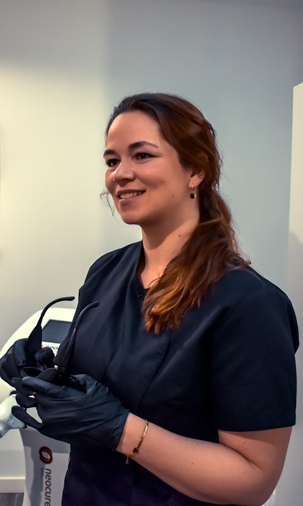 Medically trained
You will be treated by a professional bachelor of nursing as well as a registered nurse with an extensive medical background at Gasthuisberg and others.
Laser therapist training
We have received training in all aspects of permanent laser hair removal, both theoretical and practical, including aftercare and contraindications.
Laser in-house
Our high quality diode laser is in-house and therefore not leased/rented which not only allows us to make the best use of it but also at competitive prices.
BBF Accredited
We are accredited by the Belgian Beauty Federation, the Belgian label on quality and professionalism of Beauty Professionals with the necessary qualifications to serve you.
Frequently requested laser hair removal treatments for men
Vicky Poelmans Laser hair removal
Laser hair removal back man
Laser hair removal of the back is popular among men, for aesthetic reasons, but also for better athletic performance (be sure to read our article 'hair removal & sports').
You save yourself irritation (because difficult to shave), pain (because waxing is painful) but above all you save yourself a lot of useless work because depilating your back by shaving, waxing or with creams is only temporary.
Vicky Poelmans Laser hair removal
Laser hair removal chest and abdomen man
Waxing chest hair is very painful for men: chest hair is often longer, denser and grows back quickly.
In addition, rubbing your shaved or epilated chest and belly against your clothing can cause irritation.
Laser hair removal is then a relatively painless but, more importantly, permanent solution.
Vicky Poelmans Laser hair removal
Laser hair removal armpits man
Laser hair removal of the armpits is a popular treatment among both women and men, not only for aesthetic reasons (think sunny vacations without constantly shaving) but also to reduce strong sweat odors.
More about sweat (odor) and laser hair removal
Vicky Poelmans Laser hair removal
laser hair removal legs man
Traditionally, in the past we saw mostly athletes (cyclists and swimmers) having their legs laser depilated.
Nowadays, leg hair on men is also increasingly perceived as cosmetically disturbing and laser leg hair removal is chosen for the sake of body care and hygiene.
Questions and/or an appointment?
Whether you're a man looking to get the whole body lasered
or just a few small spots removed, we're here to help.
Contact us
From the very first consultation, Vicky immediately put me at ease. Her professional and friendly approach gave me the confidence I needed to continue with the laser hair removal process. She took the time to answer my questions and address my concerns, making me feel at ease every step of the treatment.
After having tried other salons in Leuven and being disappointed with the results and the professionalism they offered, I ended up at Vicky's. A completely different way of working where the client is the focus, time is taken to get to the desired treatment together and with results this time!